During April 28-30, 2016 the Vatican was hosting its third conference on stem cell research.  The goal of this conference was to support and promote cutting-edge stem cell therapies that use adult stem cells.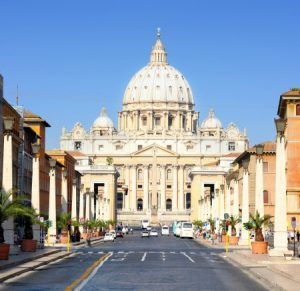 The Catholic Church is against research and therapies that involve embryos and embryonic stem cells, which the Church regards as human life. On the other hand, the Catholic Church supports research and usage of adult stem cells, which are gleaned from most tissues in the body.
During the conference, the scientists, physicians, patients, philanthropists, religious leaders and government officials discussed the effects and huge potential of stem cells.
Conference, titled "Cellular Horizons: How Science, Technology, Information and Communication Will Impact Society", was already the third conference on regenerative medicine organized in the Vatican. The first conference was held in 2011, and the second one in 2013. Pope Benedict XVI announced the Catholic Church's support for adult stem cell research in his talk to the participants in 2011. At that time he said:  "It opens up possibilities for healing chronic degenerative illnesses". This year, Pope Francis talked about 3 points that can be done to fight off diseases that tragically harm the lives of millions of people round the globe. He said that "It is fundamentally important that we promote greater empathy in society and not remain indifferent to our neighbour's cry for help, including when he or she is suffering from a rare disease". According to the Pope, the "formation and research, therefore, aspire to serve higher values, such as solidarity, generosity, magnanimity, sharing of knowledge, respect for human life, and fraternal and selfless love".
The goal of the conference aimed to unite people "without prejudice, to create an open dialogue about the interconnections among cellular research, technology, faith, and culture".
The main points of the conference were as follows:
innovation is needed to cure cancer, diabetes and rare diseases,
clinical trials are slow and expensive,
cell therapies should be available worldwide, at all places, including developing countries that cannot afford treatments.
At Cellthera, we strongly support the words of Pope Francis and we believe that this conference will also help to ensure availability of cell therapies to all patients worldwide.
For more information, visit also:
Vatican stem cell summit wants cutting-edge treatment to reach the poor
http://www.scienceworldreport.com/articles/38987/20160430/pope-francis-on-regenerative-medicine-counter-global-indifference-by-global-empathy.htm